Protect Your Investment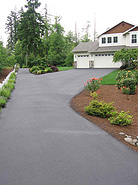 Your parking lot says a great deal about your company or residence and the first thing that your customers see is your parking lot or driveway. If your asphalt is not properly maintained, it can convey the wrong message.
There are many adversaries in the fight to keep your asphalt looking great and, most importantly, fully functional. UV rays can eat away at the coating on the asphalt, leaving it vulnerable to moisture. Oil and gas spills can deteriorate your asphalt making it more likely that a partial failure can develop. The biggest violator is moisture! Once moisture seeps into your asphalt it creates real problems as it expands and contracts.
You can help prevent failures by treating your asphalt with a sealer. The sealer will provide a barrier for your asphalt, repelling harmful substances and UV rays. Sealers can also provide a beautiful surface by filling cracks and voids.